Timmie Lee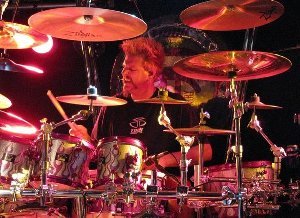 Timmie Lee - drums
In 1977, at the age of 9, Tim's parents took him to the Styx, Grand Illusion tour for his first concert, from that night on, he was hooked on live music.  From there he begged his parents to take him to concerts and local bars to see live bands.  When Tim turned 14, his parents finally gave in and purchased his first drumset.  Around that same time, Tim met Mikey Yearling, who he jammed with in his basement throughout high school.
Once in college, Tim and Mikey lost touch.  Tim ended up meeting the members of what was to become the all original music group Rotten Sneakers/Congo Square.  Rotten Sneakers/Congo Square was probably best known in Milwaukee for being the 102.9 Lazer Lunch band for Marilyn Mee.  Rotten Sneakers/Congo Square had a fair amount of success for being an all original band.  Their shows were well attended and allowed them to open up for numerous national acts.  In 1994, Congo Square, had the opportunity to make a CD that was produced by Joey Vera of Armored Saint, Fates Warning and Anthrax fame, and engineered by Brian Griffin, the now Tour Manager and Sound Engineer for Lamb of God.  Overnight the Grunge era began and the CD was not picked up, that led to the ultimate demise of Congo Square.
In 1996, after two years of not playing, Tim ran into Mikey, and the two of them, along with the addition of Dani, formed what is now Oil Can Harry.  Oil Can Harry has enjoyed 17 years of success as a cover band, playing to large crowds at events such as La Crosse Oktoberfest and Tomahawk's Fall Ride, as well as winning WAMI's cover band of the year in 2010.
Tim is sponsored and playing on custom drums and hardware made by Trick Drums.